From the latest release of admin-based ethnicity statistics (ONS), it was shown that, across several administrative data source, there are a significant proportion of people having reported to belong to more than 1 ethnic group.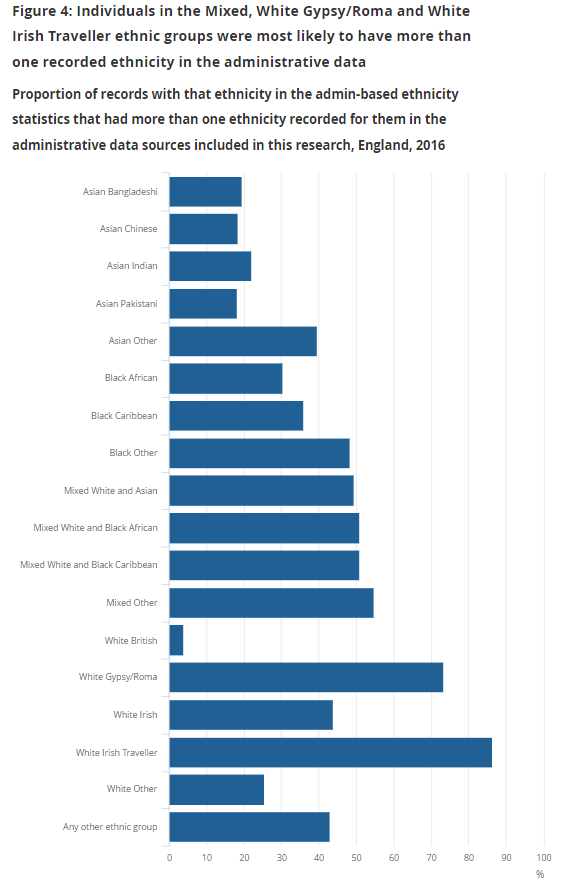 Similar evidence of changing ethnic identification was demonstrated in Understanding Society @usociety youth survey in young people aged between 10-15.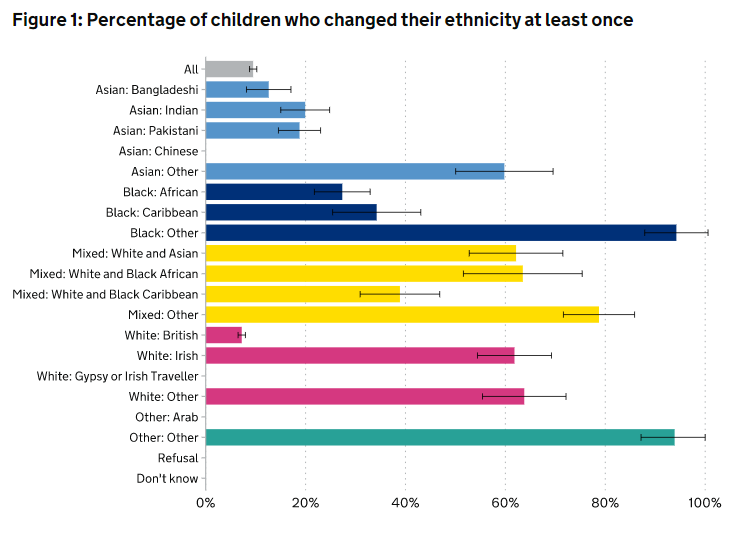 Ethnicity is a dynamic historic-cultural construct, and for most people from ethnic minorities groups, it changes overtime. In research/policy-based evidence making, ethnic groups are often lumped together (#BAME…), assumed to be constant, and you can only pick 1. It bears the question, how come the default practice in research is to treat ethnicity as time-invariant?
You might notice that – Changing ethnic identity is very uncommon among people reported to belong to White British groups.
And rightfully so! At the time when the population is predominantly white British (or that people from other groups are mostly slaves or seen as objects), research is predominantly initiated by white British, it is reasonable that ways of research are agreed for and within white British.
I am not saying it is a bad thing to have a consistent ethnic identification! But this lived-experience of an invariable ethnicity by white British groups has dominated the knowledge generation process and structure. And this assumption, rightfully based on white British experience was then assumed to be an universal experience.
It became The Default.
I did not recognise the issues with The Default.
I thought it was a consensus, as it was widely replicated and taught to next generations of researchers. I still do the same in my own research: treating ethnicity as lump sum categories, do not change over time.
And perhaps this IS the manifestation of systemic #oppression/#racism. Paraphrasing Dr. Celestin Okoroji: @CellyRanks shared at @kcsamh #PartneringforChange event yesterday (21/6), we need to recognise the hegemonic knowledge and evidence generation mechanisms in this society, and challenge them. (See my thread to capture part of the talk here)

The next question is: "how" – what can we do, if we think we should challenge the default – or at least suggest an alternative of how "reality" is conceived.
I have 2 thoughts – (please share yours with me too!)
1) Community-Centric Research
2) Improving Methods

(1) Community-Centric Research means to put local communities – people – at the heart of research. It is about valuing relationship building, and demonstrate impact valued by local people. It is one form of Public Patient* Involvement I suppose, but more. This should be embedded in how funding is planned and commissioned.

(2) Improving Methods
This is one goal of my PhD project (with @Klharron & @rob_aldridge), to improve research equity, to face the biases in "default practices", more specifically in the practice of data linkage, interpretation and public health policy decision making.

This is new to me – and I am empowered to see so many pioneers on this path. Change can only come from a collective effort. Do share your thoughts and idea with me here or via email!

(end)
Originally tweeted by Joseph Lam (@Jo_Lam_) on 22nd June 2022 as a Twitter Thread. Minor edits and expanded on points without character limits.